SINGAPORE BUSINESS SERVICES
Business can be that easy if you are able to just go back to basic one more time. And at time some entrepreneurs remark that it is easier to start a business with little or no money .. 
As a matter of fact, across different trades, the Major Concerns of most business are in the areas of 'COMPANY FORMATION' , 'COST CONTROL' & 'PROFIT MAKING'
Most Management consultancy is based on the provision of verbal advice. On other hand, EZY management teams take full responsibility and involvement for the implementation of their recommendations. We help many companies in singapore in their incorporation and company formation, business setups and fuifill their outsourced accounting needs. EZY Management also assisted many small medium enterprises in acquiring government grants such as web development grants from IDA and IRAS and SPRING Singapore etc.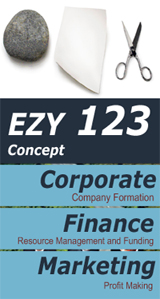 Business make easy in just three simple steps!
     1. Corporate   – Company Incorporation or Formation, Business Setup in singapore and Corporate Secretarial 
     2. Finance       –  Accounting, Book keeping , Director report Compilation and Corporate Taxation, XBRL
     3. Marketing  – Sales data generation and analysis
We take care of your corporate needs such as company formation, corporate secretarial and book keeping services etc.
SINGAPORE CORPORATE SERVICES
ROUTINE RESOLUTIONS
Annual General Meetings
NON-ROUTINE RESOLUTIONS
First board resolutions
Change of registered office
Appointment/Change of directors
Appointment/Change of secretaries
Appointment/Change of chairman
Appointment/Change of managing director
Appointment of corporate representative
Change of particulars of directors, officers
Share transfer
Change of bank signatory
Opening of bank account
Closure of bank account
Change of financial year end
Annual General Meeting and Annual Return
Declaration of directors' interest (general declaration)
Affixation of common seal
Conducting company profile printout
Increase in paid up share capital
Change of Name
Change of Memorandum & Articles of Association
Change of auditors
Removal of auditors
Satisfaction of charges
Creation of charges
Loss of share certificate
Bonus/rights issue
Declaration of dividends (interim and final)
Application for extension of time to hold annual general meeting and/or to file annual return
Application for Central Registration Number (CR Number) i.e. trader's code
Conducting of company searches i.e. extract of documents filed, microfilm, etc.